Fiction by Jean Hanff Korelitz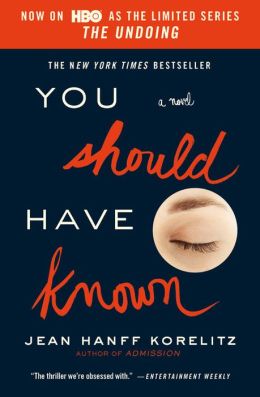 http://www.barnesandnoble.com
Grace is a psychologist who's just written a book called
You Should Have Known.
It's a different kind of marriage self-help book, one that teaches the reader to recognize the clues a potential partner gives early in the relationship that will let her know he is wrong for her. Grace wants to help couples in crisis BEFORE the crisis happens, before they even become a couple. By carefully looking at a potential partner before marriage, a woman can avoid being blindsided later by a husband with a gambling problem, a secret homosexual relationship, or the like. After all, this problem was there all along, and the wife should have known it was coming. Right?
Her publisher is very excited about the book, saying it is perfect for release in the new year. It's just what the women of America need: someone who has it all together to explain to them what they should have known all along, someone like Grace. But then, just before Christmas, karma comes in to bite poor Grace in the butt.
Her own husband has a secret. A big one. One that she
should have known...