Fiction by Cynthia Kadohata.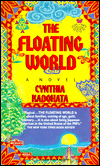 http://www.barnesandnoble.com
I got this book because I read one of the author's young adult novels and really enjoyed it, so I looked to see if she had written anything for grown-ups.
This story was not at all as good as
Weedflower
(the youth novel). Although I liked the characters, the plot didn't go anywhere.
Sorry.